Vehicle Coverage
Book ahead. Save money. Worry Less.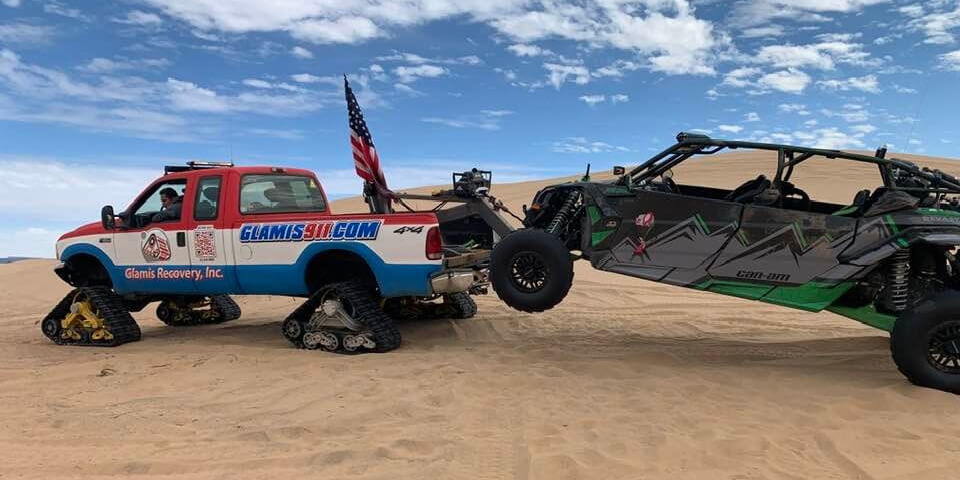 Anything Can Break
Why Not Prepare For It?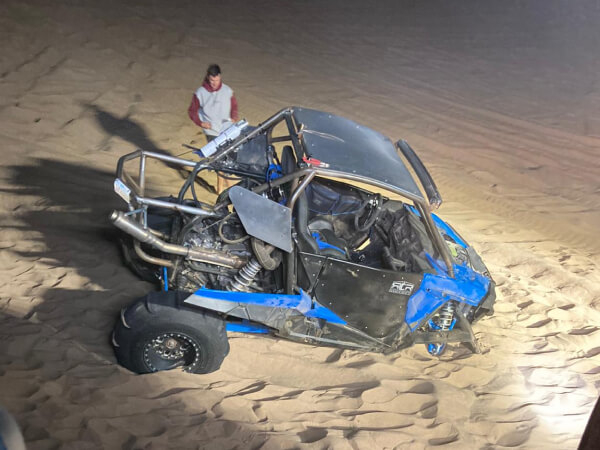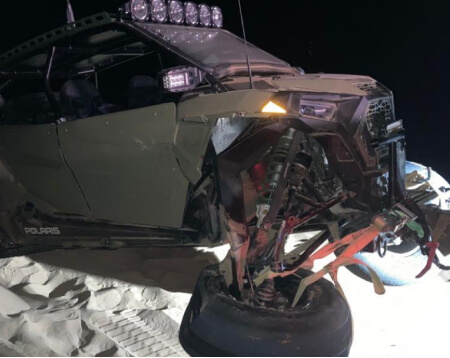 Anything and everything can break in the dunes.
Whether you're out in the dunes by yourself or wishing you could launch at swingset in front of thousands, everyone is worried about the big question: "How would I get my wrecked vehicle out of the dunes?"
How Coverage Works
Purchase coverage for your vehicle before you go into the dunes. Just $50 a day.
If you need a recovery, we'll get you out and you won't pay anything more for the recovery. Average savings of $1,200.
Only pay for coverage the days you'll be riding in Glamis. Or get season coverage and save even more.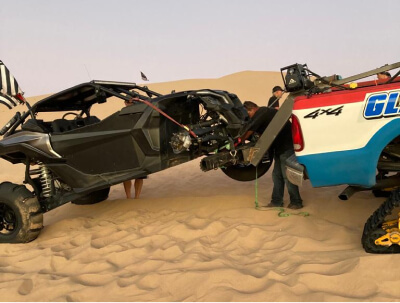 Vehicles We Cover
ATVs
Dirt Bikes
Side-by-Sides: RZR, Can-Am, etc.
Sandrails
Vehicles We Don't Cover
Full-Sized Vehicles
Pick-up trucks
RVs, Trailers
Vehicles on the "Not Covered" list are still recoverable using the standard hourly rate. Call our hotline, (760) 562-8508, for an estimate on your situation.
Choose From Two Types of Coverage
24-Hour Coverage
Pick the dates you want covered
For those who want protection but aren't out in Glamis all season. Enjoy the flexibility of picking your dates and start time.
Purchase entitles you to one recovery per 24-hour window.
Price: $50 for 24 hours per vehicle
Season Coverage
Weekends Only - all season long
For those making multiple trips out to Glamis each season. This is our best deal. You'll have coverage every weekend** of the season (Oct 15th - Mar 5th).
** Weekend: Friday 5:00 am - Sunday 11:59 pm
Purchase of season coverage entitles you to one recovery during the season.
Price: $300 per vehicle
Operation Restrictions
Hours of Operation
For safety reasons, we will NOT be performing nighttime recoveries this season. We will only perform recoveries within the hours of operation: 5:00 am - 5:00 pm.
As long as you request a recovery inside of your coverage window, we will recover your vehicle the next day if we cannot get to you due to daylight restrictions.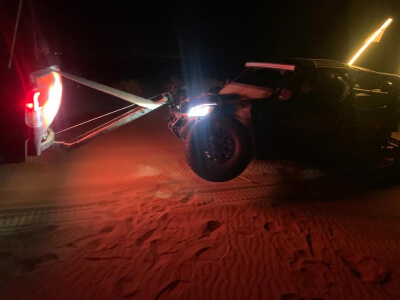 Coverage Area
Vehicle coverage only applies within the boundaries as displayed on the map.
Recoveries outside of the boundaries are priced at the standard hourly rate for the time our operators spend outside the boundary. Assuming you're south of the boundary, we won't start the clock until we get to the southern boundary and we'll stop the clock once we're back inside.
We perform recoveries at Gordon's Well and Buttercup at the standard hourly rate. These locations are not elligible for coverage yet.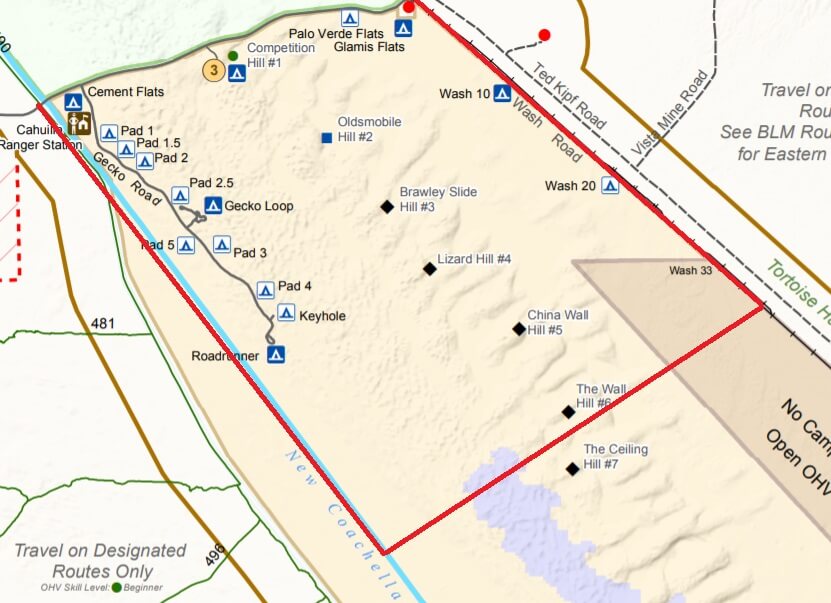 Click the map to enlarge it.
Boundary lines are in bright red.
SouthWest Point: (32.85599, -115.08395)
SouthEast Point: (32.91640, -114.96561)
Purchasing Coverage
Vehicle Coverage is purchased for a single vehicle. You will need to create a vehicle in your account using that vehicle's identification number (VIN). We will verify the VIN at the time of recovery.
Purchase coverage at least 48 hours before you hit the dunes. If you'd like to be covered starting at 5:00 pm on Friday, you'll need to purchase the coverage before 5:00 pm the Wednesday before. This also applies for season coverage.
Any recoveries requested outside of your vehicle's coverage window are priced at the standard recovery rate.
For 24-Hour Coverage, you will only be able to purchase in 24-hour increments. But you can purchase as many consecutive days as you'll need for your vacation.
Daily coverage and season pass only grant a single recovery. To regain coverage for your vehicle, you'll need to purchase another policy.
Coverage is a "use it or lose it" deal. Refunds are not rewarded if a customer does not exercise their right to a recovery.
Boundary lines are in bright red.
SW Boundary Point: (32.855995, -115.083954)
SE Boundary Point: (32.916404, -114.965614)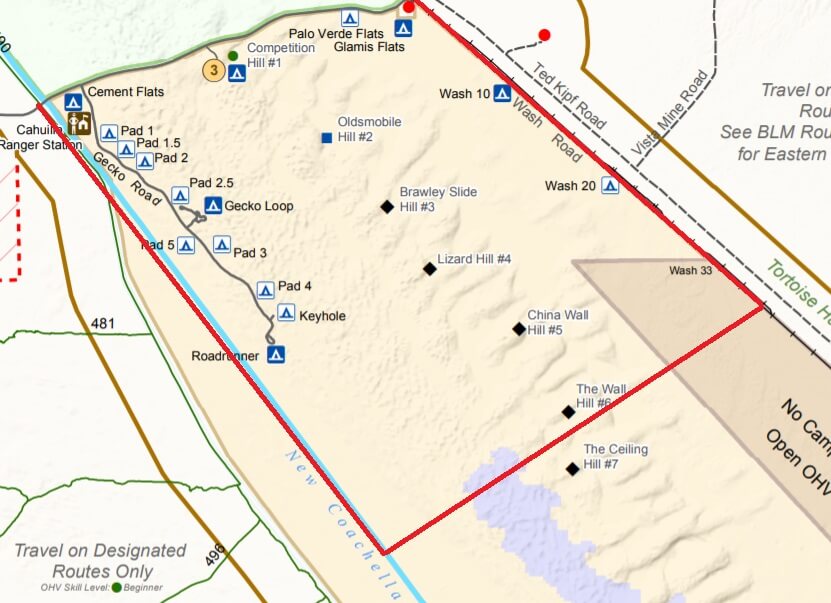 Still Got Questions?
Have any questions about vehicle coverage? Reach out to us via Facebook or email. We're happy to help!
Facebook: Glamis Recovery
Phone: (760) 562-8508